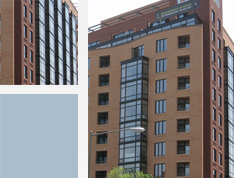 Request Information
About HD Smith
HD Smith is dedicated to furnishing and installing windows/doors/storefront/metal panels for commercial and residential construction projects. Whether your project is new or existing construction, HD Smith's competent team can help achieve your timelines and demands. HD Smith's team works hard to keep our excellent reputation for supplying and installing quality products with experienced labor ready to serve your construction needs for windows, doors, storefronts and metal panels. We want to help you design and build a product that will meet your specific goals.

HD Smith was incorporated in the state of Maryland, the 24th day of November 1982, and is a privately held company. Dale K. Smith at that time was elected president. The company started as a wholesale window & door distributor. Sales have been primarily in the Baltimore/Washington area to builders, contractors, lumber yards, and glass companies.
Over the years our company has developed a specialty in large commercial window, door, storefront and metal panel installation projects. We are experienced with replacement projects while the buildings and units are occupied with no interruption to the owners. Sales have broadened to cover other states such as Pennsylvania, New Jersey, Virginia, Delaware and California.

While maintaining all our product warranties, we can also offer repair service for your windows whether we installed them or someone else.

We are BONDED and OSHA Certified.
Licenses: VA Class A, Arlington County, Maryland Contractors
Insurance: Certificate Available Upon Request, Performance and Payment Bond
Associations: PMA, MMHA, CIA

Contact us today or request a quote for your project needs in the Baltimore, Washington, Annapolis area. Don't forget to ask about our repair service.